A newspaper from - and for the radikal / autonomous left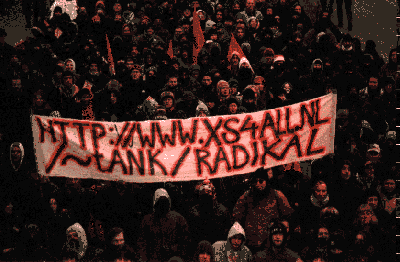 Foto taken at the demonstration on 16-12-95 in Hamburg
a few days after we've put a copy of the radikal 153 on the internet
Radikal number 155
---
---
German Governement don't want their people to read this newspaper
On 11th of april 1997 one of the biggest german ISP's, the DFN (university-network in Germany), started a ip-filtering blockade against www.xs4all.nl because the page you are looking at. It only lasted a few days. Many protest letters were send, mirrors arised around the world and the complete issue of radikal 154 was posted in de.soc.zensur (and because of that mirrored at dejanews). It was not the first time this site was blocked. Last year september members of the german ICTF (Internet Content Task Force) also blocked www.xs4all.nl for about a month. See the press releases and statements Felipe Rodriques (chairman of XS4ALL Internet) geatered about the German's censoring XS4ALL.
But only blocking this site was not enough. After the first censorship-attemp the Prosecutor at the court of Berlin has indicted Angela Marquardt, vice president of the socialist party PDS, for providing a hypertext link to "radikal no. 154". We compiled a page with recent news about a house-raid at angela's place (3-4-97). See http://www.yi.com/home/MarquardtAngela/pe030197.htm and trend : Onlinezeitung für alltägliche wut for more info.
Bad boys behind these censorship-attemps are the BKA/BAW (Federal Criminal Investigation Departement). They told the German ISP's that they "possibly make yourself subject to criminal prosecution for aiding and abetting criminal activities if you continue to allow these pages to be called up via your access points and network crosspoints".
The German Secret Service wrote a special paragraph in their interim year-rapport 1996 because the existence of this site.
News on the german censor attempt:
---
Fight Censorship
Lebt und lest radikal!
Download a copy of this site and make a mirror. dos-zip format or UNIX tar.gz format
Mirror-list of radikal worldwide
---
Raid in the Netherlands because of radikal
On the morning of the 11th of December 1996, ten local police officers, a high-ranking officer from the Maastricht-court, two LKA (Landes Kriminal Ambt) German officers and two BKA (Bundes Kriminal Ambt) German officers raided a house in the village of Vaals (The Netherlands) against Miguel who is being charged with the making and distributing of the left-wing newspaper Radikal. For more actual info see: http://www.xs4all.nl/~tank/radikal/11.12/
---
More info about radikal
Radikale Zeiten: Zeitung gegen die Verfahren wegen RADIKAL, K.O.M.I.T.E.E., AIZ und RAF.

20 Jahre radikal: Geschichte und Perspektiven autonomer Medien.

Perchè abbiamo deciso di mirrorare Radikal

Radikal index nr.89-153
made available by ANTI RACIST INITIATIVE berlin.


If someone has information in English we like to have it, to put it on these pages!! Some articles of the Radikal has been translated and can be found at the ATS-gopher
Rough English translations of issues 153 and 154 of Radikal can be found at http://www.meaning.com/library/radikal/

Why we've put the newspaper online..

Statement of Radikal summer 1995

and some pictures of the demo from 16-12-95.